DYNAMIX® RANGE
Professional hand mixer
DYNAMIX® DMX 160 blender / homogenizer

Just one tool for grind, crush, mix, smooth, emulsify and homogenize!

Lightweight, quick, efficient and powerful.
Detachable mixer tool that can be easily dismantled for easy cleaning.
Stainless steel mixer tube and guard for perfect hygiene.
Titanium-plated blade easy to remove.
Variable speed as standard.
Ergonomic.
Quiet.
The blender tool is perfect for modified textures, veloutes and soups, fish soups, emulsified sauces, ice cream, vegetables purees, compotes or gellified water.
The pulverisation of all the particules (hard and woody fibres, fish bones) provide smooth, unctuous, aerated and homogenized texture. 
The preparations made with the blender tool do not require sieving. The fibers are then preserved, they are more digestible, facilitating the stomach transit.
In a single gesture, you save valuable time and preserve nutritional and organoleptic properties.
1 to 4 L
Variable speed included
VERSATILITY : Special tools to each application
ROBUSTNESS: Stainless steel mixer tube and Titanium-plated blade. Ultra-resistant, optimizing its duration over time in the context of intensive use.
HYGIENE : Detachable foot, 100% in stainless steel for easy cleaning
SAFETY : Unlocking safety feature
ERGONOMICS: Ergonomic design for easy handling and weight perfectly adapted to the user (thanks to high technology materials).
Features
Ref. MX100
| | |
| --- | --- |
| Output max | 220 W |
| Speed | 3 000 to 13 000 R.P.M. |
| Voltage | 110 - 120 V or 220 - 240 V / 50 - 60 Hz |
| Total length | 395 mm |
| Shaft length | 160 mm |
| Bell diameter | 55 mm |
MAINTENANCE
Detachable accessories for easy cleaning. Clean the accessories by passing them under the faucet.
Wash the motor block with a sponge or with a slightly damp cloth.
Never clean this machine with water jet spray or in the dishwasher.
Use the Dynamix support (Ref SM030) to store your device.
Use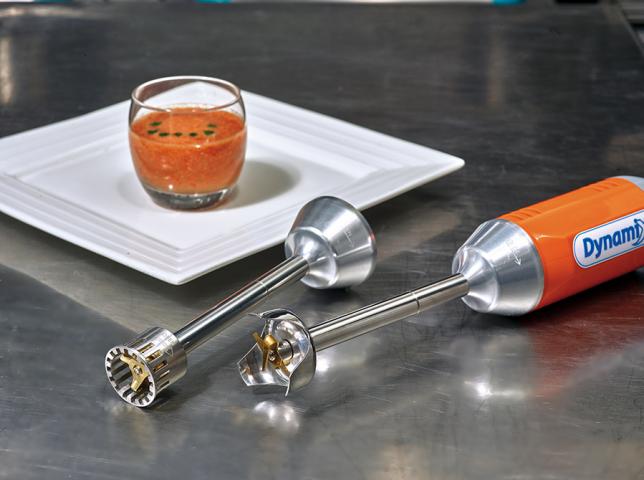 Blender / Homogenizer
The blender accessory allows to pulverize the ingredients (fibers, fishbone), to mix, to smooth, to homogenize your ice creams and sorbets or to emulsify your sauces and emulsions. It is also suitable for modified textured preparations, pancake batter, veloutes, soups, bread soups and soups (fish soup, dehydrated soup), legume purées, gelified water, juices, smoothies and milkshakes, coulis, creams (fruit or vegetables), compotes and fruit marmalades, brine (cold powder dispersion).
ACCESSORIES AVAILABLE SEPARATELY
Discover the accessories of the DYNAMIX range