Coconut beef and carrot puree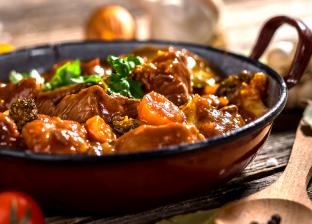 boeuf coco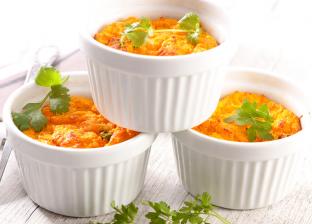 purée de carottes
4 place settings
Ingredients
base elements
800g Beef bourguignon
600g Carrots
40Cl Coconut milk
1 Onion
1 Garlic clove
3 tbsp Ginger
1 to 2C. teaspoons chilli
2 tbsp Coriander seed
2C. tbsp Fresh coriander
seasoning
Method
In a pressure cooker, fry the onion and chopped garlic over medium heat in 2 tablespoons of olive oil. Add beef, cut into large pieces, and fry it on all sides.
Add coconut milk, curry, ginger, chilli and coriander seeds. Close the pressure cooker and simmer over medium heat for 40 minutes after the first whistle.
Add the white cheese and vinegar. Season with salt and pepper and add a few drops of Tabasco. Correct the seasoning if necessary. Keep refrigerated for 45 min.
Open the pan, stir slightly and add a glass of water if necessary.
Peel and cut the carrots into slices, then place them in the pressure cooker basket.
Close the pressure cooker and simmer 15 to 20 minutes over medium heat. At the end of cooking, the meat and carrots must be tender. Continue cooking for 10 minutes if necessary.
When opening the pressure cooker, add half the sauce and fresh coriander, stir.
Remove the carrots, and set aside in a dish with half of the sauce. Using the mashed press, crush everything to obtain a purée.
Serve hot beef with mashed puree.
Dynamic kitchen equipment
Compatible products and accessories for this recipe
Discover other recipes
Even more original ideas for Dynamic recipes