JUNIOR RANGE
PROFESSIONAL HAND MIXER
JUNIOR COMBI 225
The lightest mixer on the market in its categoru
Lightweight, sturdy and handy.
Detachable mixer tool and whisks for easy cleaning and maintenance.
Safety button
Double insultion
Variable speed as standard.
Stainless steel mixer tube and guard for easy cleaning and perfect hygiene.
Titanium-plated blade easy to remove.
1 to 5L
Variable speed as standard.
VERSATILITY : Special tools to each application
ROBUSTNESS: Stainless steel mixer tube and Titanium-plated blade. Ultra-resistant, optimizing its duration over time in the context of intensive use.
HYGIENE : Detachable foot, 100% in stainless steel for easy cleaning
SAFETY : Unlocking safety feature
ERGONOMICS: Ergonomic design for easy handling and weight perfectly adapted to the user (thanks to high technology materials).
Features
Ref. MX022
| | |
| --- | --- |
| Appliance diameter | 94 mm |
| Length | 505 mm |
| Shaft length | 225 mm |
| Actual weight | 1,1 Kg / 1,9 Kg |
| Output max | 270 W |
| Speed | 3000 to 12 0000 R.P.M. |
| Volume (in liter or Kg) | 1 to 25 L |
MAINTENANCE
Clean the outside of the tube and the blade protector by passing it under the faucet.
Dismantle whisks from their attachments by pushing strongly on the cups, then you
can securely rinse the whisks under running water.
Wash the motor block with a sponge or with a slightly damp cloth.
Never clean this machine with water jet spray or in the dishwasher.
Use the wall mount to store your device.
Use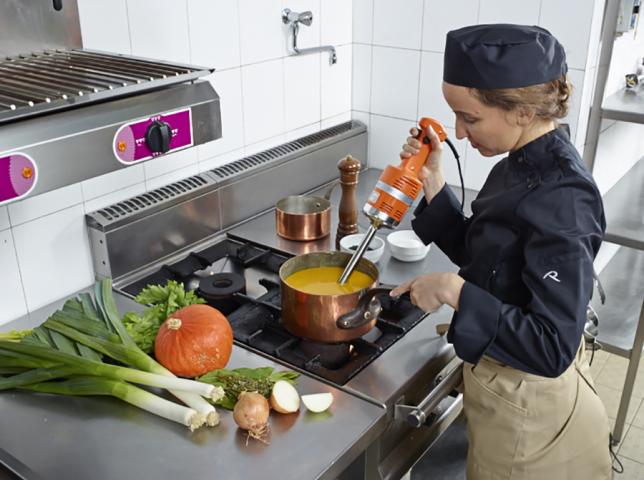 MIXER
Thanks to the versatility of the different knives: mix, spray, smooth, homogenize or emulsify directly in the pot, excellent soups, veloutés and bread soups!
These knives allow to make sauces, bechamel, mayonnaise, pancake batter, modified textured preparations, porridge, sorbet and ice creams, smoothies, milkshakes and juices, emulsions , creams (whipped, vegetables), compotes or fruit marmalades.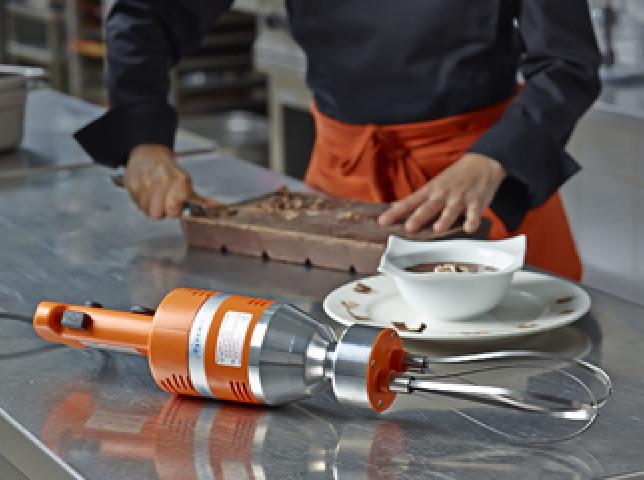 WHISKS
The whips will allow you to knead, mix, smooth, homogenize or whip your preparations such as pancake batter, flans, porridge, hot sauces (bechamel, pepper, Hollandaise), cold sauces (mayonnaise, vinaigrette ...) , mousses, whipped eggs white, whipped cream, creams (fruit, whipped), purees (mousseline, mashed potato preparations), soups and dehydrated foods.
ACCESSORIES AVAILABLE SEPARATELY
Discover the accessories from our JUNIOR RANGE