MASTER RANGE
Professional hand mixer
MASTER MX 410
New motor technology
Micro switch automatic locking system.
Continuous function auto run button allows to mix continuously or pulse.
Ergonomically designed handle.
High ventilation point.
Indicator light: for your safety the light indicates that the unit is plugged in and ready for operation.
The mixer tool: the stainless-steel tube ensures quality and durability.
Titanium-plated blade: durable,dependable and long lasting.
The blade can be easily removed with a small screwdriver.
20 to 100 L
Variable speed optional
ROBUSTNESS: Monoblock, stainless steel mixer tube and Titanium-plated blade. Ultra-resistant, optimizing its duration over time in the context of intensive use.
SAFETY : Unlocking safety feature
ERGONOMICS: Ergonomic design for easy handling and weight perfectly adapted to the user (thanks to high technology materials).
Features
Ref. MX004
| | |
| --- | --- |
| Appliance diameter | 122 mm |
| Ricer tool length | 720 mm |
| Shaft length | 410 mm |
| Actual weight | 3,5 Kg /4,1 Kg |
| Output max | 600 W |
| Speed | 10 500 R.P.M. |
| Volume (in liter or Kg) | 40 to 100 L |
MAINTENANCE
Clean the outside of the tube and the blade protector by passing it under the faucet.
Beware of splashing that could penetrate through the engine's ventilation slots and damage it.
Put the tube with the blade protector in clear water and start the machine for 3 seconds or more to clean the inside of the blade protector.
Wash the motor block with a sponge or with a slightly damp cloth.
Never clean this machine with a water jet spray or in the dishwasher.
Use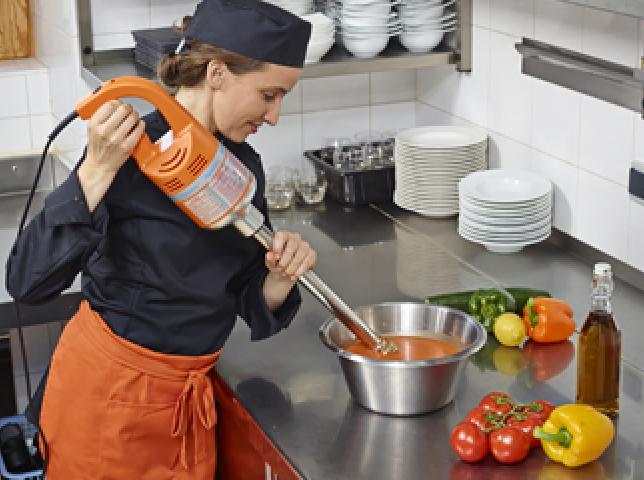 MIXER
Thanks to the versatility of the different knives: mix, spray, smooth, homogenize or emulsify directly in the pot, excellent soups, veloutés and bread soups!
These knives allow to make sauces, bechamel, mayonnaise, pancake batter, modified textured preparations, porridge, sorbet and ice creams, smoothies, milkshakes and juices, emulsions , creams (whipped, vegetables), compotes or fruit marmalades.
Accessories available separately
Discover the accessories from the MASTER range