DYNAMIX® RANGE
PROFESSIONAL MOTOR BLOCK
BM Dynamix® 160 NOMAD
1 to 4 L
Delivered wiht charger and Lithium-ion battery
Small size
Efficient and robust
Detachable accessory at the base of the motor block avoiding water penetration during cleaning
Ergonomic
Quiet
Versability with all the additional accessories (standard or emulsifying knives, beater or emulsifying disks, removable whisks, ricer tool, cutter bowl, 1- to-3 liters bowl).
Features
Ref. AC580
| | |
| --- | --- |
| Appliance diameter | 110 mm |
| Total length | 290 mm |
| Output max | 2 000 mAh / -12 Vdc |
| Speed | 10 000 R.P.M. |
| Volume (in liter or Kg) | 1 to 4 L |
MAINTENANCE
Detachable accessories for easy cleaning. Clean the accessories by passing them under the faucet.
Wash the motor block with a sponge or with a slightly damp cloth.
Never clean this machine with water jet spray or in the dishwasher.
Use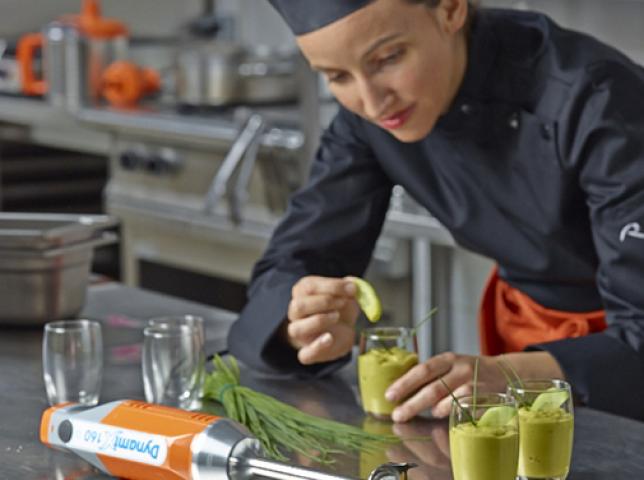 Mixer
Thanks to the versatility of the different knives : mix, spry, smooth, homogenize or emulsify directly in the pot, excellent soups, veloutés and bread soups ! These knives allow to make sauces, bechamel, mayonnaise, pancake batter, modified textured preparations, porridge, sorbet and ice creams, smoothies, milshakes and juices, emulsions, creams (whipped, vegetables), compotes or fruit marmalades.
Whisks
The whips will allow you to knead, mix, smooth, homogenize or whip your preparations such as pancake batter, flans, porridge, hot sauces (bechamel, pepper, Hollandaise), cold sauces (mayonnaise, vinaigrette ...) , mousses, whipped eggs white, whipped cream, creams (fruit, whipped), purees (mousseline, mashed potato preparations), soups and dehydrated foods.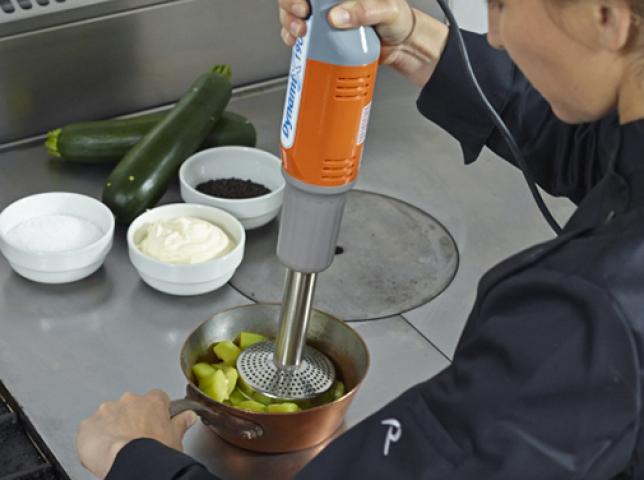 Ricer tool
The only professional tool to make real mashed potatoes and vegetables. Also used for compote preparations, fruit marmalades.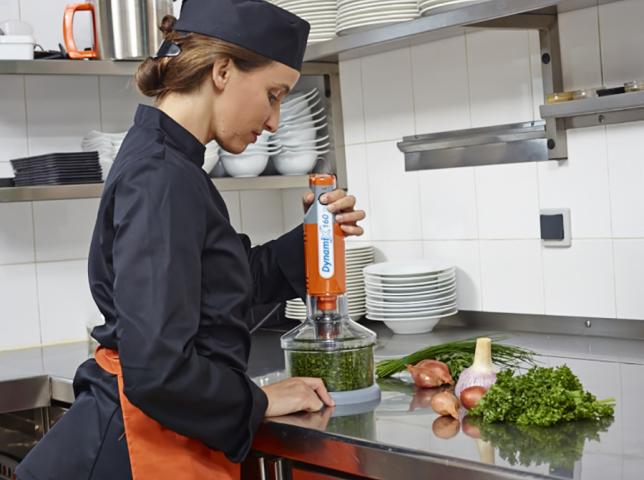 Cutter
The bowl cutter allows to chop vegetables (tapenade, guacamole, hummus ...), onions, herbs, garlic, parsley or meat and fish (terrine, stuffing, granita). It is also used to grate parmesan (shortbread parmesan), crush dry fruits, grind (speculoos, bread crumbs), mix, homogenize and knead.