Nutella Yule log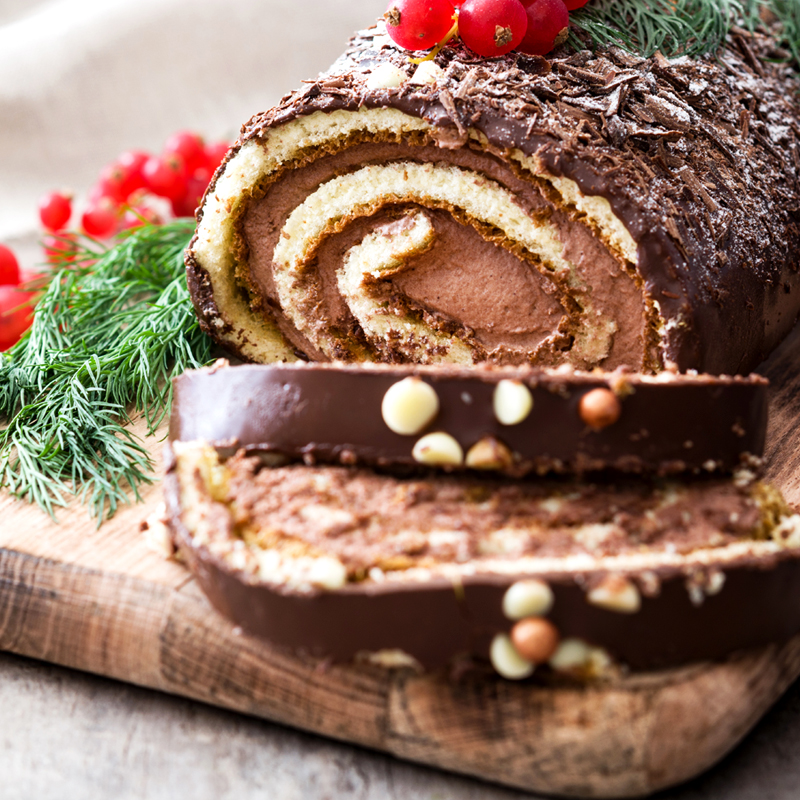 12 place settings
Ingredients
130g flour
70g melted butter
5 eggs
200g ground almonds
70g caster sugar
8 egg whites
200g icing sugar
225g Nutella
Method
Pre-heat the oven to 240°C (thermostat 8)
Sift the flour and melt the butter
In a large bowl, beat the 5 eggs, ground almonds and the caster sugar together.
In another miwing bowl, whisk the 8 eggs whites, slowly adding the icing sugar a little at a time.
Add the flour and the whisked egg whites to the first mixture, a little at a time, alternating the flour and egg white mixture.
Mix the melted butter with a little dough mix, then add to the previous mixture. Mix well.
Divide into two and spread the mixture of two baking sheets lined with greadeproof paper.
Cook at 240°C for 6-8 minutes
Remove the sponges from the hot baking sheets, taking care not to break them
Cover with cling film and place in the fridge
Take each of the sponges and place on greaseproof paper
Fill a piping bag fitted with a 3 mm nozzle with Nutella, pipe small, identically-size amounts of Nutella onto the spongesand spread.
Roll each cake and coat the surface with Nutella
Cut the 2 ends of the log to reveal the inside
Decorate the Yule log as you choose
Dynamic kitchen equipment
Compatible products and accessories for this recipe