MASTER RANGE
Professional hand mixer
Master MX 91-410

Nouvelle Puissance
Powerful, sturdy. 
Easy to use.
Non detachable mixer tool : ensures durability of the mixer.
Safety button.
Switch.
Double insulation.
Stainless steel mixer tube and guard for easy cleaning and perfect hygiene.
Titanium-plated blade easy to remove.
Variable speed optional.
40 to 100 L
Variateur de vitesse en option.
PERFORMANCE : Des outils spéciaux adaptés aux différentes préparations.
ROBUSTESSE : Monobloc, pied en acier inoxydable et lames inox avec revêtement en Titane. Ultra-résistant, optimisant sa durée dans le temps dans le cadre d'un usage intensif.
SÉCURITÉ : Mise en marche de l'appareil sécurisée par un bouton.
ERGONOMIE : Confort d'utilisation par sa prise en main et poids parfaitement adapté à l'utilisateur (grâce à des matériaux de haute technologie).
Features
Ref. MX005
| | |
| --- | --- |
| Output max | 600 W |
| Speed | 10 500 R.P.M. |
| Voltage | 110 - 120 V or 220 - 240 V |
| Total length | 715 mm |
| Shaft length | 410 mm |
| Appliance diameter | 110 mm |
| Actual weight | 3,4 Kg / 3,8 Kg |
ENTRETIEN
Rincer la partie inférieure du pied sous l'eau. Attention aux éclaboussures qui pourraient pénétrer par les fentes de ventilation du moteur et l'endommager irrémédiablement.
Ne pas laver au jet d'eau ni au lave-vaisselle.
Pour plus d'efficacité lors du nettoyage, plonger le pied du mixeur dans un récipient contenant de l'eau et mettre en marche l'appareil pendant quelques secondes
Nettoyer la poignée avec une éponge ou un chiffon humide.
FOURNI AVEC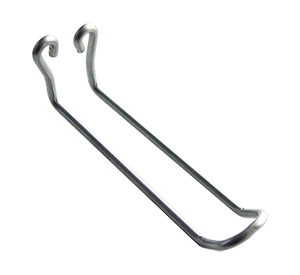 Use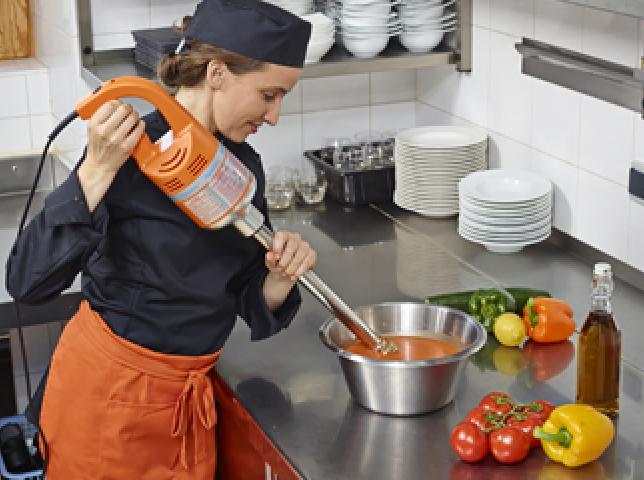 MIXEUR
Grâce à la polyvalence qu'offrent les différents couteaux : mixez, pulvérisez, lissez, homogénéisez ou émulsionnez directement dans le contenant d'excellents potages, veloutés, soupes et panades !
Ces embouts permettent aussi de réaliser des sauces, de la béchamel, de la mayonnaise, de la pâte à crêpes, des préparations en textures modifiées, des bouillies, des sorbets et crèmes glacées, des smoothies, des milk-shakes et jus, des émulsions, des crèmes (fouettées, de légumes), des compotes ou marmelades de fruits.
Produits associés
Découvrez les  accessoires de la gamme MASTER